Ecommerce Tips: 5 Off-Site Tips to Boost Your Site's Bottom Line
Ecommerce's share of the retail market has steadily grown over the past decade. The coronavirus pandemic has only contributed to that rise. Shoppers are forced to stay indoors and shop from their computers and phones, rather than going to the mall.
That means that your ecommerce business is potentially poised for a booming period of upstart growth. Play your cards right and focus on the strategies it takes to succeed.
One of those strategies not only involves developing your website, but also means building your off-site infrastructure as well. Off-site ecommerce involves strategies like social media posting, text marketing, YouTube content creation, and podcast content. Basically any medium where you deliver information regarding your brand to potential consumers.
Let's take a dive into 5 off-site marketing strategies that your ecommerce site should use. These increase traffic, develop leads, and convert sales.
1. Engage with text marketing
Text marketing is one of the best moves you can make in the marketing playbook.
When developing an text marketing campaign, consider these initiatives to help boost attraction to your site and increase conversion rate:
Monthly Newsletters
Depending on your brand, a newsletter with informative content can be a huge hit with potential customers. Let's say you're an outdoor brand. You might send out a link to a newsletter with information about this upcoming season's hottest new gear. If you're a cooking brand, a newsletter with new delicious recipes can be a great way to drive engagement.
Coupon Codes
Valued, loyal customers willing to input an email for special offers deserve to be rewarded with exclusive discount opportunities. Having a text list which notifies customers about special offers is a great way to increase your conversion rate. And get more people interested in your text list.
Product Launches
Keep your loyal text list informed of your newest products by updating them whenever you've launched a new line. This can be included in your newsletter, or it can be its own special text.
Now, let's take a look at social media next.
2. Strategize social media posts
Social media is booming right now: Instagram, Twitter, TikTok, Facebook, YouTube, and Reddit all present unique opportunities for ads. Each boasts clever algorithms that identify likely customers and deliver them unique ad experiences. These ads are uniquely suited to their browsing habits. Tech companies are one of your best bets at securing new customers and revenue.
Let's take a look at this example from ShareAble for Hires, which keeps up a consistent LinkedIn presence.
This is a great example of an effective social media post. An informative caption, an eye-catching graphic, and link helps potential customers know where to use the service right away. Additionally, this service helps companies perform background checks, so advertising on LinkedIn is particularly savvy.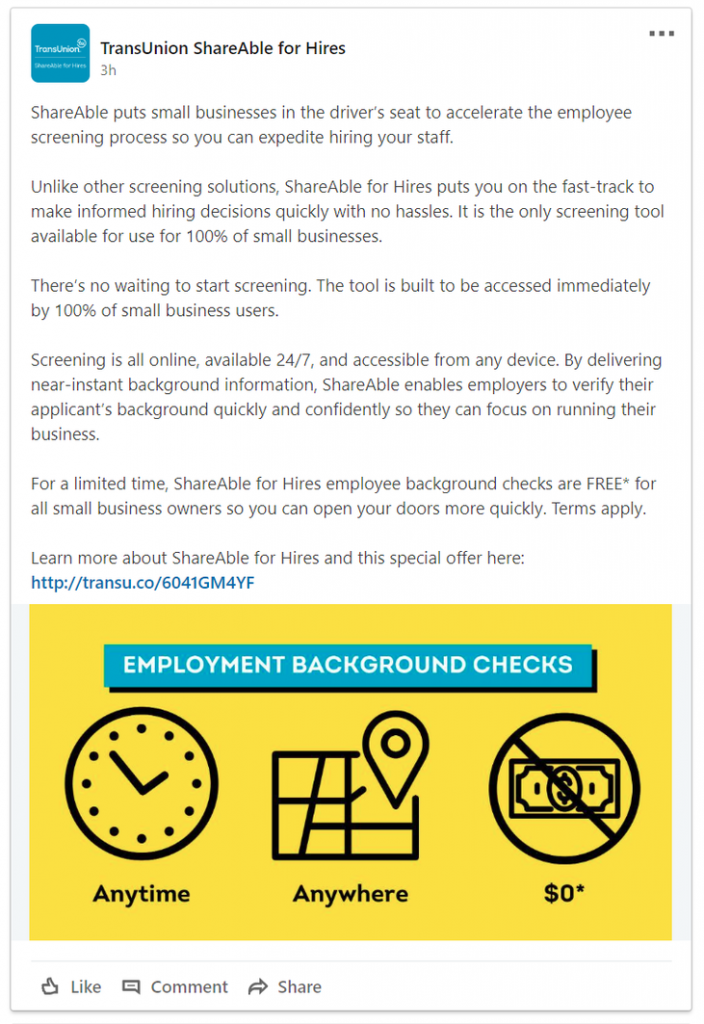 Take stock of your company's aims: if you sell eco-friendly material-based swimsuits, Instagram is probably your best bet. If you sell trendy snacks geared toward teens and preteens, TikTok is a great option. Placing ads on certain feeds is a wise move for many ecommerce sites. If you really want to ramp up sales, though, you might want to dive a bit deeper. That's where influencers come in.
Incentivise with influencers
Influencer marketing is the way of the future. Web-savvy younger users are often wary of deliberate and unashamed ads in their feed. They scroll past with an eye-roll without hesitation. However, they often trust the influencers they follow wholeheartedly. Those influencers are often on the lookout for new revenue streams — that's where you come in.
Influencer marketing platforms are now a massively popular business model. They connect popular social media content creators with big brands that want to collaborate. Of course, you'll need to do research to find out which influencers best suit your brand identity. A trendy college student probably isn't the best person to advertise your tax software, for instance.
For some brands, however, it's often smart to start developing your own off-site content.
3. Curate ecommerce off-site content
There are tons of ways to extend your reach to various information channels across the internet. While your on-site blog is a great way to increase traffic. Savvy brands know to produce content where people already likely are hanging out.
Take, for example, this AutoZone YouTube how-to video. Car owners looking for DIY advice might turn to YouTube to find a video helping them replace their shocks.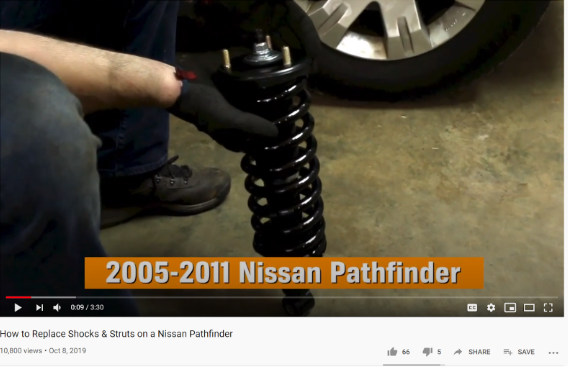 If they do, they're likely to run into this AutoZone original content. Producing this video results in a win-win. The user finds the information they need, plus AutoZone gains recognition as a trusted brand in car repairs.
4. Use a Text Messaging Chatbot
Site users come from all over the world, however it's impossible to be online to answer questions 24/7. A great way to drive sales is to use an automated chatbot. Chatbots help users navigate your site, answer questions about stock, and retrieve shipping information after business hours.
Additionally, text messaging chatbots send easy to read information to customers such as sales going on. This is accomplished with a hyperlink to direct the customer directly to the sales page.
5. Stimulate SEO
Perhaps the most important off-site tip to remember is search engine optimization (SEO). SEO is one of the most important tools in your toolkit. When your brand appears at the top of Google, users are far more likely to engage with your content. Ultimately leading to the purchase of products or services.
While plenty of SEO happens on-site, off-site SEO is equally important. Mostly, this involves building links from highly-respected sites back to yours.
For instance, if you make delicious vegan cheeses, consider reaching out to vegan bloggers. They might consider featuring your cheese (and a link to your product page) in their blog posts or tutorials. The blogger pointing their users toward your brand both increases your recognition and boosts your SEO — another win-win!
The Takeaway
In the quest to increase engagement, site visits, and conversion rate, it's critical to take advantage of all your marketing channels. Off-site marketing is a huge share of possible clicks, and every ecommerce site stands to benefit from using it. With the right pairing of on-site and off-site marketing, you can seriously boost your recognition — and with it, your bottom line.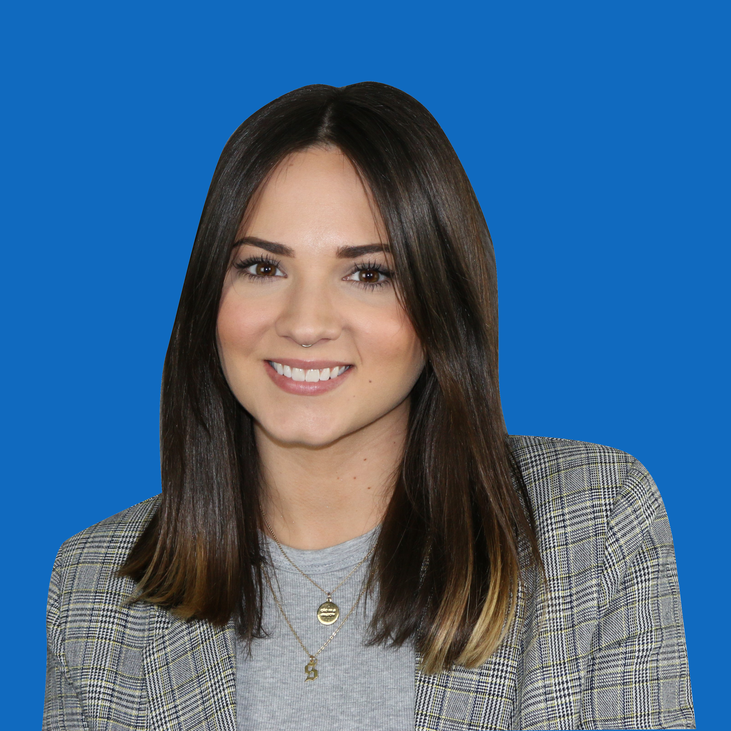 Samatha Rupp
Samantha Rupp holds a Bachelor of Science in Business Administration and is the managing editor for 365businesstips.com. She lives in San Diego, California and enjoys spending time on the beach, reading up on current industry trends, and traveling.