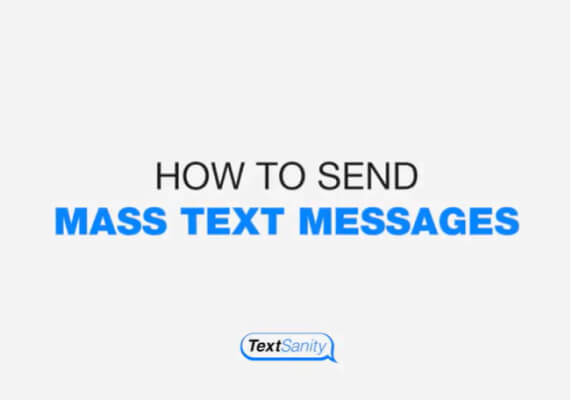 Broadcasts Page
Tutorial
Mass text messaging is a powerful and easy-to-use function of TextSanity's mass texting service. It's important to know that mass text messages sent through the Broadcasts page are not sent as a group message. If someone replies to the mass text message, all the other contacts who you messaged won't receive the reply.
Legality
It's important to know that TextSanity's mass texting service is compliant with federal TCPA laws. These laws govern how phone calls and mass text messages disseminate across automated systems. The main point of it all is that you first need to have someone's consent in order to include them in a large text message broadcast.
With that in mind, We designed TextSanity to only broadcast to those contacts that you opt-in for your messages. Our platform ensures that you easily gain opted-in contacts through SMS Keyword Campaigns, simple webforms, and through an opt-in request to contacts you've manually imported.
How to setup a
Broadcast
To send a mass text message, go to the "Broadcasts" page on your TextSanity account. Then simply click the "+ New Message" button on the upper-right hand corner of your screen above the calendar. Name your message for your own reference. Please note, the name will show up on the Broadcasts calendar on the day you scheduled the message for.
The next step is to choose who the message goes to by selecting either an "Audience" or "Tags."
Here's the difference:
An Audience is a predefined segment you've set-up with one or more tags.
The Tags option allows you to send the message to a quick custom group by selecting one or more tags on the spot. Please note, this is why it's extremely important to tag your contacts.
Sidebar on how to set-up a predefined audience:
Click the "+" button at the top right of the Audience column on the left of the screen. Name your audience. Select a color for your audience. Please note, the color you choose is important because it will allow you to easily see the scheduled text messages to this specific audience on the calendar. Then, choose who is in the audience by selecting one or more tags.
Back to sending your mass text message. Please note, you can click "Insert Name" above your message text which will insert the first name listed each contacts' information.
You can include a URL or file when creating your message. Please note, if your URL is short, you can include it directly in the body of the message, but if you have a really long URL, you can click the "Add Attachment" button below your message text. Doing this allows you to insert a really long URL or an image or pdf file. Whatever you add as an attachment will be sent in a second message immediately after the text body is sent.
Next, you schedule when your message will send. Choose a day and time. As part of TCPA laws, automated messages can only be sent between 8:00 a.m. and 9:00 p.m. You can also just choose to send the message right now with the toggle switch below. Click submit.
The Broadcast Calendar
The message you've created will appear on the calendar on the Broadcasts page. If a scheduled message has not been sent yet, you can edit as needed. Please note, if you open an opted-in contact on the Contacts page, it will show you the text messages scheduled to go out to that contact.
Thanks for watching! Check out our other how-to videos.
Start using TextSanity to send mass text messages today!
Start broadcasting now
No obligation, no set up fees.