5 Simple and Professional Texting Signature Ideas 
Professionalism can set you apart from your competitors, and customers are far more willing to do business with and appreciate a company that puts professionalism at the forefront of its mission. 
SMS marketing and business texting do not have to be an exception to this rule. Composing professional marketing text messages to be distributed to your customers and adding cell phone signatures can give your customers the confidence to trust and do business with you.
Our 5 favorite business
SMS signatures
Sign with your first name and role

Sign with your first name, last name, and role

Sign with your

company name

Sign with "Your friends at…"

Sign with your name and email
Another way to look at a signature is to consider it a seal. Historians have dated the origins of signatures back to around 3500 B.C., invented by the Sumerians who would use a cylinder-type device to put an impression in the clay.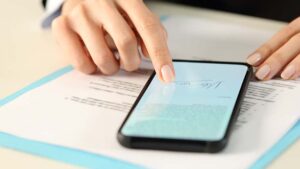 Essentially, a personal signature puts your seal on what you are presenting, whether that is a legal contract, a letter to a family member on a card, or a text message to your customers. However, instead of leaving an impression in the clay-like ancient Sumerians, you are leaving a digital impression in a business text with your customers.
Below are our ten favorite business text message signatures! 
1. Sign with your first name and role
With the advent of texting and instant online messaging came the infamous emoji. We use emojis to convey intended emotions that can be lost in non-verbal digital communications. Similarly, sending a business text with the first name and role of the person sending it adds a personal layer of communication to your SMS marketing. 
Your customers will appreciate this added personal touch, and it will elevate you above your competitors. When your customer knows a specific person with a particular role in communicating with them versus a bot, their customer experience is enhanced tremendously. 
2. Sign with your first name, last name, and role 
At TextSanity, we love overachievers such as yourself, and sending both a first and last name with your business title or role at the end of your text takes business communication to the next level.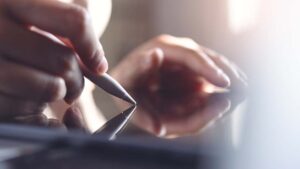 This signature demonstrates your commitment to professionalism and reaffirms your prioritization of creating a customer experience that is second to none.
3. Sign with your
company name
You worked hard to build your company from the dream up, and you most likely worked just as hard choosing what that dream would be named. Be proud of your name and brand, and add your company name as a signature to your business texts to keep your brand in the minds of your customers. 
4. Sign with "Your friends at…" 
Business information can be more personal than it is transactional. Transactional business is to excitement what water is to fire. In other words, it puts the fire out. 
Professionally personalize your business texts by adding the tag "Your friends at 'your business name'" to show your customers that they are more than just people who you try to get to spend money with, but are also cherished friends. 
Instead of throwing water on your excitement, throw gas on it! Not literally, but you get the point. 
5. Sign with your name and email 
Accessibility and ease of communication are essential to consumers. Think about it; nothing is worse than knowing you have an issue or concern and not knowing how to get in contact with the person who can help you. Sending a business text with both your name and an email gives your customers communication options. They will appreciate that you are making every effort to improve customer communication, which, as we all know, is essential to successful relationships of all types.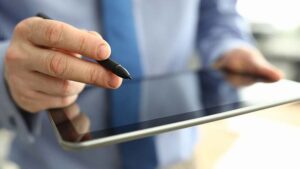 Why your
SMS signature
matters 
Think about the origins of the signature and emojis. Your signature is essential. It sets the tone of your company's mission regarding the customer experience, which carries over into production. Your signature is your seal. 
Be mindful of how you put your seal on your message. Consumers can see straight through ingenuine efforts. Your aim should be to enhance the customer experience with professional communication, no gimmicks or sales tactics. 
Your signature adds a
personal touch
Although consumers crave, and even demand, companies to have a digital presence, they also respect and cherish having a personal touch. In other words, they love having their cake and eating it too! Your signature adds a personal touch to your SMS marketing and business texting. 
One of your marketing goals should be to build customer loyalty and retention. You want your customers to be excited about your products and business because their excitement will transform into referrals and reviews on Facebook, Google, Instagram, TikTok, and Twitter. Receiving reviews in these places translates into free advertising. 
Adding a personal touch to your business, texting by using signatures is a great way to demonstrate your professionalism and gain the trust and confidence of your customers.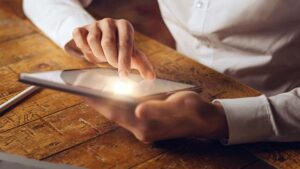 Your signature tells customers who you are 
It might sound silly that a simple signature can tell customers who you are as a business, but nothing could be further from the truth. We will give examples of signatures you have probably seen or used and let you be the judge!
Have you ever received an email or text from a religious organization or maybe a priest? If you have, we bet they ended their message to you with a salutation that said "In Christ," or "In Prayer," or "In His Name," followed by their name. What does this seal present to you? 
Maybe you were in the military or have received messages from someone in the military. At the end of their message, you most likely see the salutation "Respectfully, or Very Respectfully," followed by their name and rank. Respectfully is used when the person receiving the message is of the same rank and stature or lower as the sender, and Very Respectfully is used when the recipient is of higher rank or stature. What does this signature tell you about the message and the person sending it?
Like the two examples above, your salutation and signature subtly tell your customers who you are as a business or as a member of that business. It demonstrates what is important to you as well as demonstrates the importance of the customer's reflections on your company. This value cannot be understated.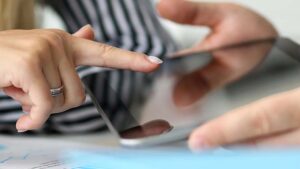 What to do next 
At TextSanity, we specialize in providing a business texting platform with the functionality necessary to enhance the customer experience via SMS marketing and business texting. We also make the process easy for you and your marketing team. 
Our messaging app offers you many options to automate your outgoing text messages and add the professional and personalized touch your business texts may be lacking. Our team is standing by to assist you in perfecting your signature so that you can place your seal on your SMS marketing with confidence!
Contact us by text, phone number, or online to connect with our team. We cannot wait to join you on your SMS texting adventure!