How To Set Up "Thank You for Your Purchase" Messages
Gratitude is an essential trait of any mutually beneficial relationship. Showing gratitude is just as crucial in the business and customer relationship. 
You depend on your customers to thrive and survive as a business, and they depend on you for the products and services they want and need.
Both parties in this relationship benefit from mutual gratitude and recognition for what each provides. When customers know you appreciate them, they often keep coming back to your brand for years.
What Is a Thank You for Your Purchase Message?
Sending a "thank you for your purchase" message after a loyal customer purchases a product or service from your online store is your way of showing gratitude. It's a little "thank you" for trusting you with their hard-earned money. When you express gratitude for a recent purchase, it encourages new and returning customers to come back and think positively about your brand.
Thanking customers post-purchase isn't something mandatory. In fact, not every small business or large company thanks customers after a purchase.
However, this makes showing gratitude to your customers even more special. Not sending a message of gratitude might not drive a customer away forever, but it displays a lack of care for them and their business.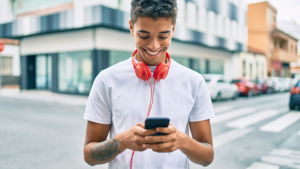 With your customer's thought process in mind, imagine what sending a meaningful post-purchase message does for future opportunities. You might bring back repeat customers with something as simple as a bit of genuine gratitude after checkout.
Why Are Thank You Messages an Important Part of the Customer Experience?
There are several reasons why sending thank you messages matters
­
They boost sales and retention.

They provide you and your marketing team with personalized marketing tailored to individual customers

They come with cost reductions for finding new prospects and conversions. 
However, the biggest and most important reason for thanking customers is simply because showing gratitude is the right thing to do. This little gesture means a lot to the person receiving it. If we're being honest, it'll mean just as much to you, too. 
Boost Sales and Retention With a Thank You Email or Text
Sending messages of gratitude after customers make purchases boosts your future sales and helps you retain existing customers. Therefore, you reduce customer attrition while building a coalition of customers who stand behind your products or services. 
As we mentioned, customers usually buy from companies with their best interests at heart. There is no better starting point for showing your dedication to their satisfaction than with messages of gratitude.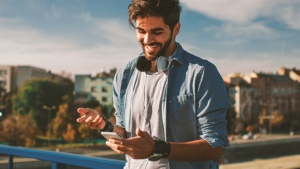 Personalized Marketing Throughout the Customer Journey
Sending thank you messages to consumers also lets your marketing team further personalize your SMS business texting and SMS marketing campaign as a whole. 
For instance, sending a thank you message to a first-time customer on its own is a solid move. However, adding the customer's name to the text is even better. 
That little extra attention to detail makes doing business with you more personal. It may open doors to relationship building and keep customers coming back in the future. When customers develop these relationships with brands like yours, they become committed to your company name — and all because you went the extra mile and recognized them as valued customers.
Thanking Customers Increases Growth
Increased customer retention and reduced customer attrition add up to increased growth as a company in terms of revenue and profits. 
As we will discuss below, marketing to existing customers is far more efficient and cost-effective than marketing to new customers. Therefore, customer retention is always a top priority. 
Reduced Cost for Gaining Customers
Since marketing to new customers is far more expensive and less efficient than marketing to existing customers, retaining customers and keeping them from walking out of the proverbial back door is another top priority in business.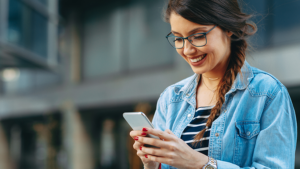 Messages of gratitude go a long way in accomplishing this goal. This is because they acknowledge how important every customer is to the long-term growth and sustainability of your company. 
Without your loyal customers, your company probably won't last. The dream you've built, and all of the goals and milestones you've reached wouldn't exist without your customer base.
Recognizing this truth is vital to your success. 
How Can Thank You Messages Change Your SMS Marketing?
Shifting your marketing focus from sales to gratitude may change the entire landscape and tone of your SMS marketing. 
Becoming known as a company that appreciates customers will give you an absolute advantage over competitors who do not take the time or make an effort to do the same. 
How To Write a Thank You Message With a Personal Touch 
We understand knowing where to start, or even how to start SMS campaigns focused on gratitude and customer appreciation, might seem daunting, but we promise it's not. You'll be grateful you took the steps to do it. 
There are four simple ways of sending follow-up thank-you messages via SMS campaigns. These methods include requesting engagement via user-generated content, offering exclusive perks, discounts, and coupons, encouraging repeat business and purchases, and inviting customers to spread the word about your company, new products, or services.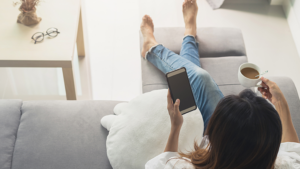 Ask for Engagement or User-Generated Content (UGC)
Don't be shy — that's the lesson taught by this outstanding SMS thank you message example. 
Don't be afraid to ask for engagement or customer feedback. At the very least, encourage engagement from a satisfied customer by asking for a positive review. Engagement is the end goal of SMS marketing campaigns for good reason — you want the customer to come back for more.
Send keyword campaigns to show your customers gratitude and then encourage engagement. Next, try letting the person participate in a webform, sign up for an event, or go to an outside landing page, such as your eCommerce site or social media accounts. Each of these strategies will keep customers coming back after the first purchase.
Offer a Discount or Coupon Code 
Offering discounts, coupons, and exclusive perks to customers who opt-in to receive text messages from your business may be incredibly helpful. These perks encourage engagement and repeat business and provide customer appreciation rewards. In SMS copywriting, you might find these offers written as "A reward as a little token of our appreciation" or "Thanks! Here's X percent off your next purchase."
TextSanity makes setting up these exclusive perks easy. Just develop your perk, select your target audience, schedule the message, and you're done. 
Usher in Their Next Order With a Post-Purchase Email
Don't be shy about encouraging your existing customers to make additional purchases. In fact, you can combine sending messages of gratitude with encouraging customers to come back. You're not pressuring customers to buy — just giving them a polite nudge in that direction.
You show the customer you appreciate them through thank you messages combined with coupons or exclusive perks for future purchases. At the same time, you kill three birds with one stone by showing customer appreciation, rewarding past purchases, and encouraging future purchases. 
In this scenario, everyone is a winner; the customer gets a discount and feels appreciated, and your company experiences increased sales.
Encourage Word-of-Mouth Marketing
Referral is one of the most-overlooked sales tactics.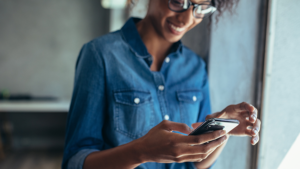 Referral networks and referral income are the least expensive marketing strategies you have. Don't be afraid of asking your customers to send new business your way. In fact, when they do so, it's one of the highest compliments you could receive as a company. 
When you send your thank you messages to customers, encourage them to send their friends and families your way. If you treat them right and show gratitude, they'll give you the response you want.
Why Is SMS the Best Channel for Thank You Messages?
SMS is the best channel for thank you messages for many reasons. One of the biggest is how easy writing thank you texts is and the personalized aspect of the texts. 
What's more, customers don't leave home without their phones and typically don't go more than an hour without looking at their notifications. This means you can be sure and confident that your message of gratitude gets seen.
The Bottom Line
Thanking your customers has many benefits. However, of all of them, the most important perk is the way your gratitude makes a customer feel. The lasting positive impression does more for your business than an investment from a wealthy venture capitalist ever could.
By making sure your customers are happy, you guarantee your business thrives and builds a loyal following. This process starts with sending messages of gratitude to your customers.
TextSanity's platform makes establishing your SMS business texting marketing strategy simple and efficient. Contact us today, and our team will show you just how easy and affordable texting marketing really is!