Wedding Invitation Text Messages
: The New Trend, Here's Why
Getting married comes with a seemingly endless to-do list, including finding a venue, booking vendors, attending tastings, and purchasing attire. Understandably, the process can quickly become overwhelming — and expensive. 
So it should come as no surprise that wedding invitation text messages are trending to simplify and streamline an essential component of the wedding planning process. 
So here's what you need to know about this trend and how to use it for your big day.
Can you text your wedding invitations?
Everyone's texting in 2022, so why not text your wedding invitations too? Texting your wedding invitations offers a whole host of benefits to brides and grooms who are looking to bring a traditional event into the 21st century.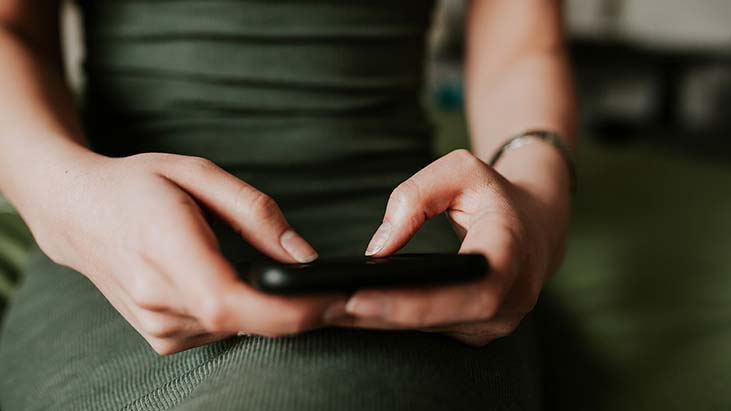 Here are some of the reasons why you should consider texting your wedding invitations.
­
Eco-Friendly:

Texting your wedding invitations is an eco-friendly tactic that saves paper, trees, and the environment. 

Affordable:

Texting your wedding invitations is a

more affordable solution

that saves you money in stationery and stamps. 

Efficient:

Texting your wedding invitations is more efficient than snail mail since texts arrive instantly compared to snail mail which can take up to a week. 

Reliable:

Texting your wedding invitations is also more reliable than snail mail since it eliminates the risk of your invitations getting lost in the mail. 

Accessible:

Text messages are more accessible than paper invitations — allowing your

guests

to access your wedding invitations anytime, anywhere with a click of a button. 
How to use TextSanity to send your wedding invitations
There's no shortage of different ways to use TextSanity for your wedding. Here are some of the best ways to use text marketing tools to your advantage. 
1. Text message keyword campaigns
For starters, you can use TextSanity to set up a keyword campaign for your wedding. It's very likely that you've participated in a keyword campaign before, however, keyword campaigns aren't just used for business marketing — they can also be used for events like weddings. 
With TextSanity, you can set up a keyword campaign that your friends and family can text to receive wedding invitations via text message. You can make the keyword something really cute like your wedding hashtag, for example. 
From there, you can insert a link into the message with your virtual wedding invitation or your general wedding website.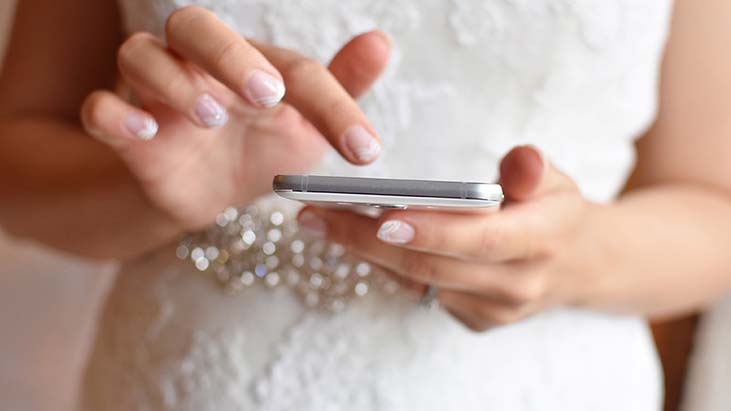 2. Mass text message
You can also use TextSanity to send mass text messages to your entire wedding guest list. 
Once your guests opt in via a text message keyword campaign, schedule and send a mass text message to everyone on your list all at once. 
3. Text message drip campaigns
Remind your guests about your wedding using a TextSanity drip campaign. For example, send out a reminder about the RSVP deadline to everyone you're missing by manually inputting their information into TextSanity. 
Another example involves sending a reminder about the time and place of the rehearsal dinner the day before by uploading a CSV file with the contact information of everyone attending. 
4. Text message payments
Make it easy for your guests to give you a wedding present with text message payments from TextSanity. With this feature, your guests won't have to worry about writing a check or getting cash to give you on your actual wedding day. 
Instead, all they have to do is text a number and you instantly receive the money that you can then use to cover wedding day expenses. 
5. TextSanity inbox
In the days leading up to your wedding, you will likely receive many messages from your guests with questions and concerns about your big day. Handling all of these messages can be overwhelming, but TextSanity makes it easy. 
Access all of these messages in one place and respond to them individually so that everyone's on the same page on your wedding day.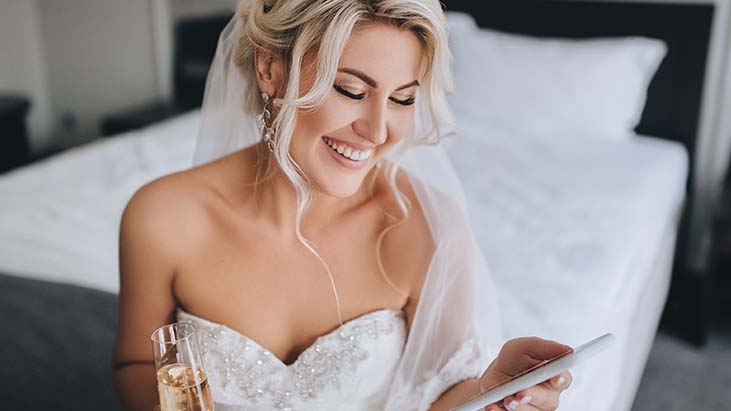 Wedding invitation message
and wording ideas
Here are some specific examples of how you can use TextSanity based on your personality and the overall style of the event. 
Formal
A formal wedding requires formal wedding invitations. It's still possible to achieve a high level of formality using wedding invitation text messages. Here are some ideas to dress up your wedding invitations:
­
Mr. and Mrs. Smith (

bride's parents

) request the

honor of your presence

at the

marriage of their daughter

Katherine Ann (bride) to Mr. Jonathan Doe

Together with their families, Ms. Katherine Ann Smith and Mr. Jonathan Andrew Doe request the pleasure of your company at their marriage

Katherine Smith and Jonathan Doe joyfully invite you to their wedding
Casual
If your wedding is more casual, then your wedding invitations need to reflect this. Here are some ideas to help with your wording:
­
Matthew and Jamie Smith request your presence at the wedding of Katherine & Jonathan

Please join us in celebrating the wedding of Katherine & Jonathan 

You are cordially invited to the wedding of Katherine Smith & Jonathan Doe
Fun
Last but certainly not least, if you're a fun couple planning a fun wedding, and therefore, need fun wedding invitations, here are some clever ideas: 
­
We're getting hitched! 

Why knot?

I do, me too, let's party!

Come for the love, stay for the party!
Wedding invitation components
No matter the style of your event, make sure to include the following components on your wedding invitations: 
­
Who's

hosting

the event? Traditionally, the

bride's parents

host

the event but the

groom's parents

may also

host

— or even the couple themselves! Just make sure that the invitations reflect the correct

host

. 

What are they attending? While it may seem obvious, make sure to include that they're invited to your wedding or marriage. 

Who's getting married? Include the names of the couple. Depending on the formality of the event, you can either use your full names or just your first names. 

When is the event? Include the date and time of the event. For

formal

events, make sure to write everything out fully and use "in the morning" or "in the afternoon" instead of a.m. and p.m.

Where is the event? Include the name of the

venue

in addition to the city and state. In some cases, you may want to incorporate the actual street address to prevent any confusion. 

Is there a reception? Provide details about the reception, including the time and location if not immediately after the ceremony or not at the same location.

Formal

events often require a separate reception card whereas more casual ones do not. 

What's the

dress code

? Tell people how they should dress for the wedding, whether it's black tie, black tie optional, cocktail, semi-

formal

, or casual. 

How to RSVP? Tell people when and how they need to RSVP by including a link to your

wedding website

, your phone number, etc. 

Wedding invitation etiquette
Finally, here are some wedding invitation etiquette tips to help you host and plan a successful event.
­
Give your

guests

enough notice about the event and enough time to RSVP. Send your invites six to eight weeks before the wedding with an RSVP deadline that's two to four weeks before the wedding. 

Make it clear how to RSVP. Do you want them to text you via

TextSanity

? Do you want them to RSVP on your

wedding website

? Just make sure to provide clear instructions and links, if possible. 

Make it clear who's invited to the wedding. For example, if you don't want any small children at your wedding, make sure to note that it's an "adult-only affair." Or if you don't want any plus-ones, only address the invitation to those who are actually invited. 
Conclusion
Take the stress out of wedding invitations by texting them instead of mailing them with TextSanity. 
With TextSanity, it's easy to upload contact information for your guest list. It's also possible to schedule texts in advance so that you can set them, forget them, and focus on other tasks. 
To learn more about TextSanity for yourself, text DEMO to 50505 for a quick, customized demo of our platform.