Text to Order: Improving the Restaurant Experience with SMS
One of the main focuses in customer service and improving the guest experience is face-to-face interaction. Yet, many restaurants are moving towards self-service solutions due to increasing competition, advancements in technology, and price sensitivity. 
SMS technology helps restaurants run their operations smoothly. Creative use of SMS texting, such as utilizing text to order services for ordering meals, can help:
Reduce wait times

Improve

customer satisfaction

Reduce employee turnover
What is text to order?
Text to order allows customers to text their order to their favorite restaurant. Customers simply text in their order. The business responds with a price and approximate time for pickup or delivery. Then, the customer inputs their payment information and a confirmation text is sent. Finally, when the order is complete, another text is sent to remind the customer to pick up the order or prepare for delivery. It's simple! 
If the customer adds or changes items, the order is updated and another confirmation text is sent along with the new time for delivery or pickup. 
The text-to-order method turns SMS marketing into an e-commerce channel. Companies sell products through text rather than external links or checkout POS processes.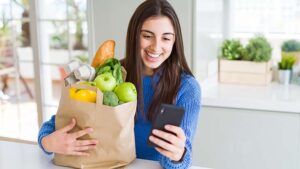 What are the perks of text to order for your restaurant?
Here are some of the perks of text-to-order for your business:
Text to order makes your restaurant more COVID-friendly

Text to order lets

customers order

on-demand

Text to order saves your staff time
Text to order makes your restaurant more COVID-friendly
Text-to-order is a good solution if you want to offer customers the option to place orders without interacting with anyone else in the restaurant. It makes it especially useful for restaurants with limited seating or busy employees who may not be able take an order.
Text to order lets
customers order
on-demand
One of the biggest perks of text to order is allowing customers to place orders. It means serving more customers in a shorter time. If your restaurant is busy, simply send an individual text message from the customer inbox letting them know when their food will be ready. These messages benefit customers who want to know exactly when their order is ready. 
Text to order saves your staff time
Keeping your employees happy is part of your restaurant's success. Employees are the people who keep your business running smoothly, and if they aren't satisfied, then you won't be, either. 
Text orders make it simple for your employees to keep track of how many orders are coming in and when those orders need to be filled. Knowing this information allows them to fufill all orders in a timely manner. 
The technology utilized by text to order SMS can also help you improve employee communication, scheduling, time-off requests, and emergencies. Having your employees accessible via mass text messaging is a great way to enhance communication in the workplace. Distinguish employees in your TextSanity account text marketing list with tags.
Example of using text to order in your restaurant
Text to order is a great way to increase sales and customer satisfaction at your restaurant. Here's how it works:
Customers opt-in to a campaign by texting a keyword to the 10-digit phone number that comes with a TextSanity account. For example, text PIZZA to 505-505-5050. From there, use a multiple message keyword campaign to collect and confirm orders. This eliminates any confusion about what the customer is ordering — whether or not they want any sides, drinks, or desserts.
 Alternatively, you can assign a tag to customers who text your keyword that directs them to a drip campaign that monitors order status. You can also use the inbox tool for order status, and the broadcast tool to send coupons or deals to customers after their visit.
The payment processor feature allows you to set up product, subscription, or donation payments within your TextSanity account. This streamlines the text to order process, as you can collect payments within the same campaign. 
You'll want to set up product payments for your menu items and include them in the text to order process for customers to complete the transactions. For more information about setting up the payment processor feature, watch this video.
How to use TextSanity for text to order
TextSanity allows you to create SMS instructions for your customers. Customers can then text your instructions to a specified number and receive a response with their order details. 
The following is a step-by-step guide on how to use TextSanity:
Create your account and add restaurant info (including your menu items along with price, quantity, and accurate details).

Set up a keyword campaign that customers can opt into for placing their orders and making payments.

Customers will text the keyword to the 10-digit

phone number

that comes with your TextSanity account.

Direct customers to a drip campaign that monitors the status of their order and collects payments in

real-time

.

Utilize the broadcast tool to send customers updates, deals, and coupons after their visit.

How to create a text to order message chain
Use the

drip campaign tool

to set up a campaign that monitors order status in

real-time

, allows customers to make payments and

sends them confirmation texts

when their order is ready. Make sure to bring the customer's attention to the fact that they can order via text and

pay with a

credit card

. 

Set up a

keyword campaign

that assigns a tag that opts customers into the drip campaign.

Have customers text your keyword and begin the text to

order process

.

Additionally, you can direct customers to

a webform page

that collects their address,

phone number

, and email. This way, you can deliver them useful information about deals, events, and coupons in the future.
Troubleshooting problems using text to order
The text-to-order message is one of the first impressions your customer has of your restaurant. It's an opportunity to show that you're friendly, helpful, and knowledgeable. It is also an excellent opportunity to fix some of the problems you've been facing in your restaurant.
Fixing phone orders
For instance, customers have an issue with receiving confirmation for their orders, especially if they order by phone. But with SMS text messages, your customers get instant confirmation messages.
As a result, quickly rectifying mistakes made during ordering is simple. Additionally, customers know how to contact you instantly if there's an issue with your service or product.
The contact number or email address in your text replies provides that access. It also allows them to reach out if they encounter any problems during their visit or after leaving the restaurant. This instant communication improves your services by providing instant reviews and feedback.
Communicating important news about your restaurant
Suppose a customer makes an order for a product that is no longer on your menu list because of issues like a delayed shipment of food products or the ingredients are out of season. In that case, configure your SMS messages to send instant notifications of items in your menu that are out of order.
When a customer sees an SMS quickly, you ensure the customer is not waiting longer than is necessary to make and get their food order. The personal nature of a text message allows you to use the right message voice and content to cater to your customer needs appropriately, that is, with a human touch.
For instance, send a coupon with an apology message for not updating your menu with available dishes.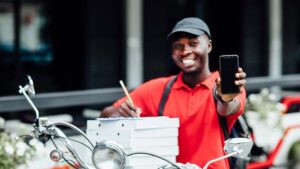 Send a review request text to your customers
Asking for reviews after a customer makes a purchase is imperative because they still remember their experience and are more likely to respond to the review request. Be sure to ask within 24 hours for the best results.
For instance, you can include links to your restaurant web so that your customers can leave a Google review. But compared to other means of requesting a review, text messages have a high open-rate. As a result, you may receive more reviews from texts.
Use TextSanity to your customer's review experience by offering incentives, like a discount following a review by one of your loyal customers.
After your customer finishes the review, ask them to text a keyword that offers them the discount. Also, create tags for customers who haven't given their thoughts. If they forget to review your product, send them a text message as a reminder.
What to do next
People have relied on waiters and waitresses to guide them through a restaurant's menu, but that is changing. The latest trend in restaurant technology makes it easier for customers to order and pay without asking anyone for help. 
Restaurants can use TextSanity to make ordering food more convenient. Text-to-order is an excellent way to ensure your restaurant aligns with modern technology and market trends.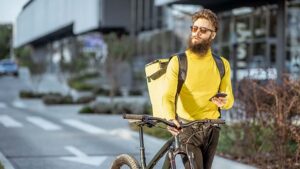 Visit TextSanity for more benefits of using text to order for your restaurant.