Review Request
Text: Using
SMS
to Get More
Customer Reviews
Updated 11/4/2022
With customers conducting their own research before making purchases, business profiles on sites like Google, Trustpilot, and Yelp are undeniable representatives of your business. Requesting new reviews is a perfect application of TextSanity's text marketing CRM.
Key takeaways:
­
Reviews boost your online reputation and search rankings

Customers are likely to leave reviews if it's easy 

 

Text marketing

is a simple way to ask customers for reviews

What are
review request
texts?
When your business begins collecting SMS subscribers, review request texts are a direct and effective tool at your disposal. Send completely customizable SMS messages to grow and improve your online reputation through requesting reviews. 
Because SMS marketing is regulated by the Telephone Consumer Protection Act, contacts need to opt in before you send mass text messages to their phone number. TextSanity's custom webforms make opt-in simple.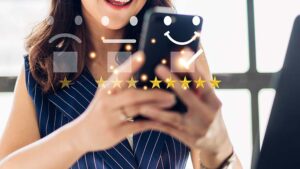 How do
review request
texts work?
Use a digital text marketing CRM, like TextSanity, to request reviews after a contact makes a new purchase. Each company, of course, has their own purchase timeline, so schedule review request texts wisely.
Make sure requests for reviews are 160 characters or less and include a link to a review site. Sending a thank-you message or reward after writing a new review is another way to incentivize customers to write reviews. With text messaging, the process of asking and receiving reviews is convenient, faster, and more reliable than email. Plus, you'll never have to worry about your notifications ending up in a junk folder.
Additional benefits of SMS include convenient access and a higher open rate than email. It makes sense. A simple, casual text message is more likely to inspire a review than a bulky email sitting in an inbox. 
While unsubscribing from email lists is a pain (when it even works), opting in or out of SMS messaging is effective and immediate.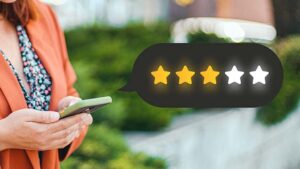 Review request
texts boost your online reputation
Business fuels reviews and vice versa. If one customer has a great experience with your product, they're likely to come back. If they tell their friends and family, they're likely to think of you when they're in the market. 
But if they write a review, and that review rises to the top on a site like Yelp, they draw thousands of new eyes to your company. Once you're set up with TextSanity, the same thing will happen. New business will fuel new reviews.
Customers leave reviews when you offer perks
One of the best things to include in a review request text is a reward. Any promotion: discounts, exclusive items, even pre-orders are great incentives.
Managing incentives is simple with text message! Simply instruct the customer to send a screenshot of their review via text message to your text marketing number. Once your team see's the text, they individually send the reward directly to the customer via text. 
As you garner product reviews, you build a better understanding of your brand for new customers. An enticing incentive helps speed that process along.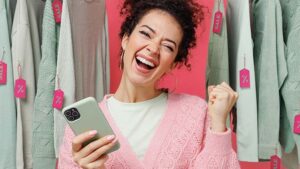 Prioritize the most popular
review sites
for better results
Not all review aggregates are used the same way or by the same audience. Make sure to focus on sites most likely to impact your business. For example: the average rating from your Google reviews shows up on Google Maps, right next to your company name. 
This means if a customer wants directions to a bookstore and uses Google Maps to choose one, a lack of consistently positive reviews is likely to play into the decision. TextSanity makes it easy to target important review sites and guide your loyal customers' attention where it's needed most.

How do reviews help a business grow?
As your company gathers reviews, your site rises in search rankings, appearing higher and under more searches. It's a powerful cycle! 
When new customers endorse you on social media or review sites it brings in even more potential customers, who can write reviews. Think of business texting as an investment where product reviews are a source of free advertising. These authentic voices outside of the company speak for you and your product or service.
The reviews also serve as invaluable customer feedback for your company. Reviewers provide an outside perspective on the best and worst aspects of your business. TextSanity expedites the process of leaving a review; extending the great customer experience you provide.
Reviews set you apart from competitors
If direct competitors don't take full advantage of the power of reviews, you can position yourself as the clear, informed choice. Almost all review platforms display the number of reviews alongside the average score. This directly correlates to how reliable the score is to potential clients.
Use TextSanity for ecommerce to ensure a clear, direct line between you and your customers. Plus, it gives you a head up on the competition.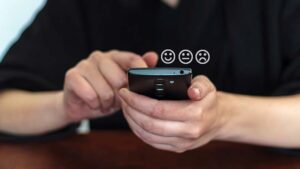 Do people really read business reviews?
If you've ever checked out a business before you went, you know the answer: YES! Your profile on review sites is frequently the face of your company to curious customers. 
Modern shoppers read the reviews from previous buyers as another part of the shopping experience, so make sure they have something positive  to read!

The best way to send
review request
texts
SMS review requests can be sent at any point. One of the best times to reach out is right after a purchase; when the experience is fresh. Reviews posted during this time are often the most detailed and influential. 
Automate text requests as part of a text message drip campaign. Put customers on a drip campaign to prompt them to review you or your product. 
Alternatively, send out a mass text message that goes specifically to customers who just made purchases based off of your text message tags. And do all of this without creating any annoying group chats. 
With TextSanity, word review request text messages any way you like, include links, and send incentives. Remember, the best response rate follows a basic template: a short, friendly message and a link to write a review.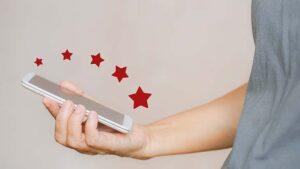 What to do next
Review requests are one of the best ways to utilize text message marketing. Easily set review request messages up after you sign up for your TextSanity account. 
Set up a text message keyword campaign. Organize your text marketing list with tags. 
Decide which text marketing tools: drip campaigns, broadcasts, or one-on-one texts to request reviews through. Then, compose your text message review request and send it right away or schedule it. 
And remember, if you need any help through the process, we're here to help!