5 Ways a Restaurant Can Use Text Messaging to Get More Business
Text messaging is ubiquitous in our culture. Everywhere you look, you see people texting. As a restaurant owner, you can tap into the trend of text messaging and use it to your advantage.
You can use it to boost your profits. The following are five ways the restaurant industry can use text message marketing tools to get more business.
1. Bring in more customers during a restaurant launch
New locations, even a new restaurant launch can benefit from text message marketing. First, before anyone steps foot in the restaurant, announce it using text messaging. Do this by advertising a few simple text message keyword campaigns. Keyword campaigns allow potential customers to receive information about your restaurant by text message.
Create hype for your restaurant
Second, create hype for your restaurant opening by sending out periodic messages about the restaurant opening to pump up potential customers. You want people to be excited to try your restaurant as soon as it opens. The best way to do this is with drip campaigns.
Once a person opts-in to receive your text messages as part of a text message keyword campaign, use your restaurant marketing tool to add them to a drip campaign that sends them messages on a particular schedule you determine. This keeps the excitement alive for your restaurant launch.
Send individualized invitations
Third, make the restaurant launch exclusive. People love an individualized invitation to an event. Play to this by sending out exclusive invitations to potential customers who've signed up for your keyword campaigns, provided their contact information, or interacted with your drip campaigns.
The best way to know which subscriber to invite is by looking at the person's individual inbox, offered exclusively through TextSanity. The inbox is the repository for all messages sent and received to an individual phone number. This way you can tell who you should send an individualized invite to.
And don't forget that keyword campaigns, drip campaigns, and TextSanity inboxes are good for more than restaurant launches. They can be used for existing restaurants to bring in more business.
2. Drive traffic to your restaurant's website
At first you may wonder, what does the internet have to do with text messaging? You already have email marketing, digital marketing, and social media marketing strategies in place—why do restaurant business owners need text messaging? But a restaurant's website and its text marketing services go hand in hand. Both create opportunities to communicate with customers who may or may not use social media platforms and see your small business's Facebook ads or social marketing campaigns.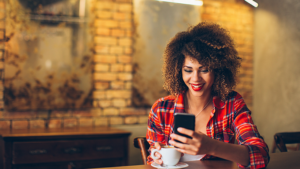 In fact, you can set up your restaurant's website with webforms that direct new customers to receive offers, specials, customer loyalty programs, and so much more via text message. Webforms, with TextSanity, can be posted anywhere on your website. They are extremely customizable and afford loyal customers the opportunity to get more for their loyalty.
3. Incentivize customer reviews
Almost every business you can think of has an online review—they're everywhere, from online ordering through Grubhub, vacation planning on TripAdvisor, or online reservations through OpenTable. Reviews are a huge part of our culture and identity, so they must be a huge part of your restaurant marketing strategies.
They are a way for customers to reach out about their dining experiences and help others decide where to go. Think about your own life. Have you ever decided not to go somewhere because of a bad review? Or have you ever decided to go somewhere based on a good review?
Reviews are huge! Restaurants these days live and die by them. And getting people to write reviews is harder than you might think. Ideally, you want reviews from customers who love and support your restaurant. However, typically reviews only come from customers who absolutely love or absolutely hate your restaurant.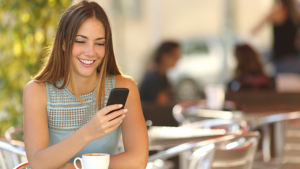 Reward customers who write reviews
So, since reviews are so pivotal, good marketers help customers write them by incentivizing them. Obviously, you want to be careful of incentivizing only positive reviews as that can create negative repercussions. An easy marketing plan to get reviews from customers is by sending them a reminder text message. You can put all of your customers that have signed up for previous keyword campaigns on a mass text message list.
With TextSanity, you can set customers on this list to receive reminders to write a review for your restaurant with a reminder of an incentive if they do. It's important to remember that mass text messages and group messages are not the same. Links and attachments can be easily added to mass text messages so that you can direct customers to review sites quickly and efficiently.
Finally, when a customer review has been written, you can confirm it by asking to see the confirmation page. Then, reward the customer! It's that simple. One other important thing to remember is to respond to reviews – both positive and negative on 3rd party sites such as Yelp or Google My Business Reviews. This allows disgruntled and contented customers alike to see that you are responsive to their thoughts and opinions.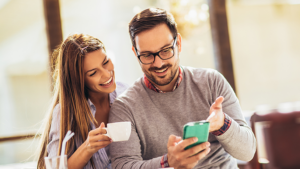 4. Share large and small announcements
Text message is a great place to share all the great things your restaurant is up to. From new locations to new menu items to charity work to sustainability. All of these restaurant marketing ideas are worthy of sharing with your customers.
Segment customers using tags
All you need to do is choose whom to send these messages to. Not all of your customers are going to be interested in all of the things you're doing. That's why you need to segment your customers using tags.
Tags are essential to TextSanity since they are what allows you to choose a group of people to send a message to. Rather than going through each person individually and adding them every time you want to send a message, you add a group of customers under a specific tag.
Obviously, some customers may just be interested in a new location, and some may be interested in your charity work. Hopefully, you'll have a few customers that are interested in all of the things you are doing. Each customer can be tagged with as many tags as you deem necessary.
Set up text message keyword campaigns to tag customers
Simply set up separate keyword campaigns to figure out which customers want to hear about from your restaurant. The keyword campaigns can be set up to automatically tag a customer when they engage with a certain keyword campaign.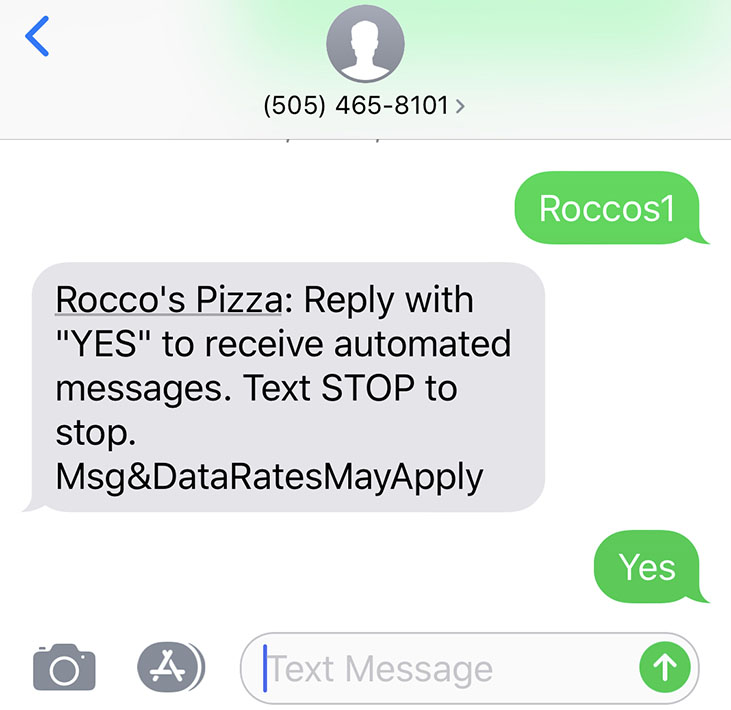 For example, you can post the following at your restaurant. "If you'd like more information about how we are changing the community around us, text LOCAL to 50505."  You can have a keyword campaign for each of the areas you share announcements about.
5. Notify customers of delivery or take out services
Finally, something that is very poignant, especially during the COVID-19 pandemic, is making sure customers know when your restaurant is still open. Although your restaurant may be open only for delivery or take-out, it's important to keep customers in the loop. You can send a simple mass text message outlining what your restaurant is doing to every customer on your text marketing list.
This gets customers the information they need quickly. That's the great thing about text messaging. It can be used to update customers on your restaurant's policies as well as a notification system about when their food is ready for pick up or delivery.
It's all available in one, easy-to-use text messaging platform. Plus, you can use the same platform to market to customers. Offering two-for-one deals or free delivery via mass text messaging is a synch!
Use text messaging to get more business
In the end, you want your restaurant to succeed. You want to draw as many customers to your restaurant as you possibly can. Text messaging can help you achieve this goal. By creating hype for your initial restaurant launch, driving traffic to your restaurant's website, incentivizing customer reviews, sharing announcements large and small, and having a viable notification system, text messaging is the simple solution you need.