Text for Info: How
SMS Marketing
Can Help Educate Your Customers 
In today's business world, it's more important than ever to understand your customer, be present when they need you, and offer services or products that cater to their needs and preferences. 
These are your greatest assets. Therefore, helping them will help you succeed and grow in turn. So, why not do it easily with Text for Info capabilities? This article shows you how to use texting services to improve and optimize your regular interaction with your customers. Let's dive in.
What does text for info mean? 
Text for Info is a popular marketing technique companies use to reach potential customers and increase sales in real-time. It works for any business, from restaurants to real estate agencies or car dealerships.
The idea behind text for info is simple: send customers an SMS message to their mobile phone with information about your company or product.
It's an excellent communication channel that eliminates the need for regular cell phone calls or email marketing. You can send important information like shipping confirmations, delivery updates, arrival time estimates, and other reminders directly to your customers' phone numbers.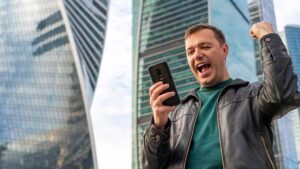 What are the uses for text for info in marketing? 
Text for Info is a channel that's uniquely suited for conversational marketing. How it works is that the technique has autoresponders that immediately receive information and text responses, either questions or comments, making it ideal for customer interactions.
The key to successful text message marketing is to know how to engage with your audience and provide value. That means providing useful, timely, and accessible information for customers to understand and use. Here are some ways to use text for info:
It gives customers information about a new product 
If you're in ecommerce with a new product or service to promote, consider sending a text for info message. Include the details of the new product or service, the price (if there is one), availability, and purchase location. 
This easy-to-read format gives prospective buyers the information they need to buy your new product line. Some things to consider including in your message include:
Product description

. Make this an essential part of your marketing message. It informs your customers about your product and empowers them to make the right informed decision during purchase.

Customer testimonials

. One line of text is enough to

show how valuable customers find your products

. But if you need to share more information, include bullet points or short paragraphs, or use the testimonials as stand-alone long-form content.

Features/benefits list

. Like customer testimonials, features provide unique product details and sets you apart in the market. Unlike testimonials, though, features/benefits lists usually offer more than just one benefit per feature — benefits are often combined into lists. 
It informs customers about how to sign up for a membership 
Use text to send notifications to your customers about a service or product that people can access through membership using the "Learn more" call to action. Tell them how to sign up using "Sign up" prompts and an accompanying URL.
Make the follow-up procedure clear, for instance, if a customer wants to join the membership. Encourage your potential customers to sign up sooner rather than later.  Keep your message short and simple, so it doesn't come across as spammy or invasive — seeming pushy is one of the easiest ways to increase the segment of your contacts who text STOP.
The text displays your message in an easy-to-read font size and color scheme. Reach out and follow up on high-value prospects and new target audiences. This text-based marketing tool works exceptionally well for websites with different membership plans, such as gyms and health clubs.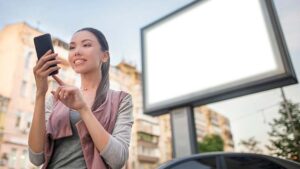 You can tell customers more about your referral program 
Text for Info is a great way to inform customers about your referral program and get them to sign up. Use the technique to send reminders about your referral program to customers already in the program. Also, include a link to your referral program so that customers who are yet to join the program quickly sign up.
Ensure you send a text message that asks customers if they want to refer someone. Add nuggets of motivation like reminders that the customer gets a gift card or other incentive when their referral makes a purchase.
How to set up a text for info marketing cadence 
Allow your customers to learn more about your business, products, and services without being too pushy. This requires a well-designed SMS for info marketing cadence that allows customers to take their time as they learn about your company. 
It also allows you to build trust with your customers, thus, making them more comfortable and ready to purchase from you. An SMS for info marketing cadence leads directly into an automated sales funnel that turns first-time customers into repeat customers well into the future. 
This is how to set up a text for info marketing cadence:
Let customers opt-in to receive texts after a purchase 
When someone purchases something from you, tell them about special offers, add-on products or services, and promotions via text message. Offer valuable information, then offer to add the individual to your marketing list through an opt-in message.
Different text messaging platforms have other opt-in solutions for you to use. At TextSanity, we provide easy-to-use webforms and keyword campaigns. Customize a TextSanity webform with your marketing goals in mind.
Include the URL in your online messaging service and text message with a prompt that encourages customers to join your marketing list. With an SMS keyword campaign, place a text keyword on an advertisement or product packaging and ask customers to opt into the list.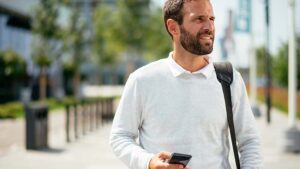 Send your marketing texts at the right times 
Send a text when your customers are most likely to see it. Figure out when your contacts receive the most messages by looking at their reply history, which shows how many texts they receive and when they reply.
Or, use an SMS scheduling app like TextSanity to let you know precisely when your contacts are most likely to see your text campaign. Use the app to schedule future mass text messages and wait for the tool to do the work for you.
Give customers an unsubscribe option 
One of the biggest mistakes people make when sending out text messages is failing to include an unsubscribe option. If someone signs up for your service or product and doesn't want more information, they shouldn't have to wait until the last day of their subscription before they stop receiving texts.
Have a way for people to opt-out of your text messaging campaign. It should be easy, fast, and simple. In addition, ensure there are no other hoops to jump through before a customer opts-out.
What to do next 
As leading mobile technology makes its presence felt, practical tools emerge that help businesses communicate with more potential customers. One such technology is SMS marketing. SMS marketing tools like text for info allow you to offer valuable information at the right time and when most relevant. 
It gives you a way to impress your customers, garner their loyalty, and set yourself apart from competitors. And platforms like TextSanity make your work much easier.