Baby Shower Invite
Text Message With Mass SMS
Updated 12/7/2022
Your baby shower is a special celebration for your little man or baby girl who's about to enter the world. Make the day special and make sure everyone's there with baby shower invitation text messages. Here's what you need to know about this 21st-century solution for your big day.
What is a mass SMS?
A mass SMS or text message is used to text a large group of people simultaneously. Mass SMS allows you to text hundreds or even thousands of people all at once. 
You can use mass SMS for everything from marketing to appointment reminders and event invitations. 
How does a mass SMS work?
You cannot just send unsolicited mass text messages. Instead, all recipients need to opt-in to receive messages from the sender.
From there, you can use an SMS application like TextSanity to send out a mass SMS instead of trying to do it manually from your phone, which would be time-consuming and nearly impossible.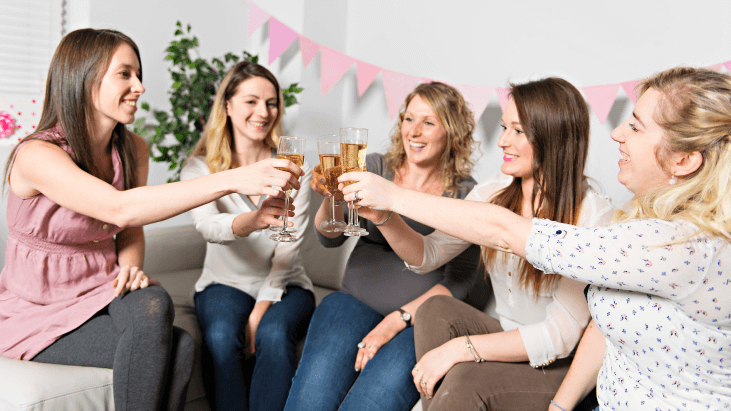 Can you send
baby shower invitations
with a mass SMS?
Since mass text messaging is so versatile, you can use it for a wide variety of different things — including sending baby shower invitations to help you welcome your little prince or little princess into the world.
Sending baby shower invitations with a mass text message instead of email or snail mail offers some unique advantages:
­
Affordability:

Texting your

baby shower invitations

is a more cost-effective solution than traditional stationery, envelopes, and stamps that can easily cost you hundreds of dollars. Instead,

TextSanity has pricing plans for mass text messaging

.
Convenience:

Texting your

baby shower invitations

is convenient for everyone. It's more suitable for the person sending them as they no longer have to address, stamp, and send out dozens of invitations manually. It's also convenient for the recipients; they won't worry about misplacing a paper invitation since all the information is right there on their phone. 

It's Green:

Texting your

baby shower invitations

is a green solution that saves paper and emissions from shipping to promote a healthier environment for your future child.
How to write your
baby shower invitation
text message?
Before sending your baby shower invitation via text message, you first need to draft your invitation. Here are some tips to help you write the perfect baby shower invitation text message: 
Key information to include
Every baby shower invitation should include the following information:
­
Who the shower is for:

Always include the

mom

-to-be's name on the invitation so that

guests

know who's about to bring a

new bundle of joy

into the world

Who is hosting the shower:

If the shower is being hosted by anyone other than the new parents, like the grandparents, aunt, friend, etc., include this information 

The date and time of the shower:

Provide the full date and time of the shower so that there's no confusion on the day of

The gender of the baby:

If you know that you're having a

little guy

or a

sweet baby girl

, let

guests

know in the invite. If you're having a

gender-neutral

shower, include that info in your text

The location of the shower:

Provide the full address of the location of the shower and the name of the venue, if applicable

How to RSVP to the shower:

Provide a

way to

RSVP

and an

RSVP

deadline

What gifts to bring to the shower:

Provide information about

any gift registries

or special requests; for example, some parents only ask for books or

diapers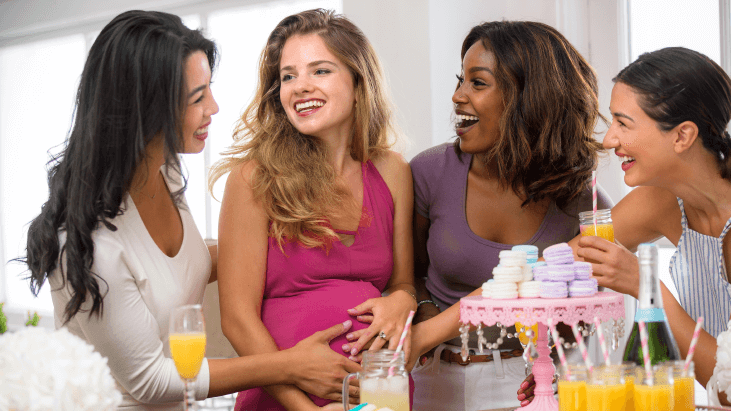 Traditional wording
­
Please join us for a baby shower in honor of [mother's name]

You're invited to a baby shower for [mother's name]

Please join us to celebrate [mother's name]'s new addition
Funny wording
­
First came love, then came marriage, then comes a baby in a baby carriage

Oh, Baby! You're invited to a shower for [mother's name]

Heard the news? There's going to be a new kid on the block!

Someone has a

bun

in the

oven

…

There's something

brewing

over here…
Wording for baby girls
­
We're tickled

pink

to announce there is a girl on the way!

Sugar,

spice

, and everything nice — it's a girl!

Dresses, dolls, and curls…guess what! It's a girl! 

A beautiful

little girl

to love and adore…we couldn't ask for more!

Who runs the world? Girls! Calling all ladies to come and celebrate 
Wording for
baby boys
­
Oh boy! Help us shower [

mom

's name]

It's a boy! Come welcome and celebrate the new

little boy

We're jumping for joy — it's a boy!

A bundle of joy, we're ready to meet our

little boy

Ahoy! It's a boy! 
Wording for
twins
­
Twice the fun is on the way!

They're two

peas

in a

pod

!

Twice the blessings, twice the love! 

Good things come in pairs! 

Have you heard the news? We're expecting two! 

Our family is growing by two! 

Four

little hands

and four

little feet

…

There's more than one

guest of honor

at this shower…
Themed wording
­
We're over the moon for this

new baby

!

Twinkle twinkle

– A

little star

fell from

heaven

and joined our family!

Fire up the

grill

, it's time for a

BBQ

for a

new baby

!

Holy guacamole! There's a baby on the way.

A little honey is on the way!

A little cutie is on the way!

Fall in love with a

new baby

!

Baby, it's cold outside — please join us for a baby shower!

Baby in bloom — please join us as we celebrate!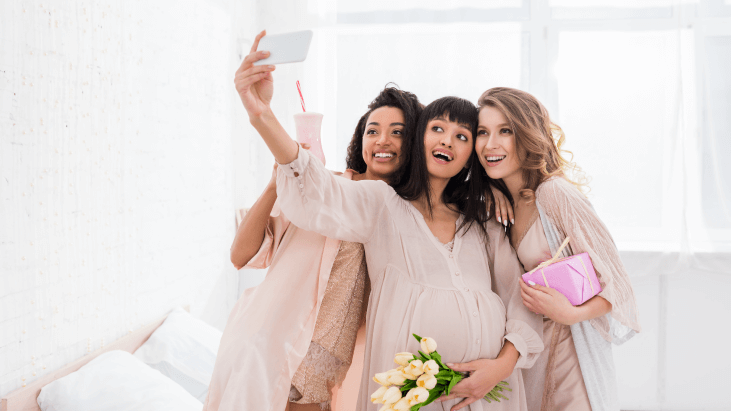 How to send
baby shower invitations
with a mass SMS?
Create a

TextSanity account

Get permission from your guests

Set up your

SMS campaign
TextSanity makes it easy for you to send your baby shower invitations out with a mass text message. All you have to do is follow these three steps, and your invitations will be on their way: 
Step 1: Create a TextSanity account
First, you need to create a TextSanity account so that you can access all that this application has to offer. Select the plan level you need and then complete your account setup by entering your email address and creating a password. Enter your payment information.
Next, choose between a local number or a toll-free number, for an extra charge. If you chose a local number, enter the desired area code for your dedicated TextSanity phone number and select your desired phone number from the list of suggestions. 
Step 2: Get permission from your contacts
Now that your TextSanity account is all set up, you will need to receive permission from your contacts before you can start messaging them. This is designed to comply with federal rules and regulations according to the Telephone Consumer Protection Act (TCPA).
Set up a text message keyword campaign in your account and have your contacts text a keyword like "BABY" to your TextSanity number to opt-in. 
Step 3: Set up your SMS campaign
Once all of your contacts have opted-in, set up your mass texting campaign with TextSanity by following these steps: 
Navigate to the "Broadcasts" tab in your TextSanity account

Click on the "+ New Message" button in the top right-hand corner of the page

Name your message something relevant like "Baby Shower" and select your recipients

Draft the message itself with all necessary information and an introduction

Schedule the message to send at a later date and time or send it right away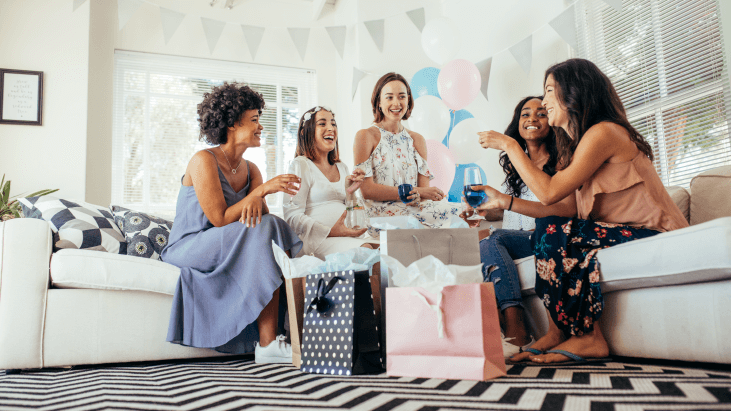 Other ways to use TextSanity for your baby shower
­
Communicate with your

guests
You can use TextSanity to do more than just send out your baby shower invitations; you can also use it for text message drip campaigns, collecting payments, and communicating with guests. 
Text message drip campaigns
Use TextSanity to set up a text message drip campaign for your baby shower. For example, you could set a series of messages to be sent out after the contact opts in. 
You could also schedule a message to be sent out the day before the actual event to remind everyone once again of the time and location. 
Collect monetary gifts
Use TextSanity to collect payments as gifts since not everyone needs a new stroller, bassinet, and high chair at their baby shower. 
All you need to do is set up your TextSanity payment account for an extra $5 a month and link your bank account or credit card. 
Your guests will certainly appreciate not having to run to the bank for cash or write a check ahead of the shower.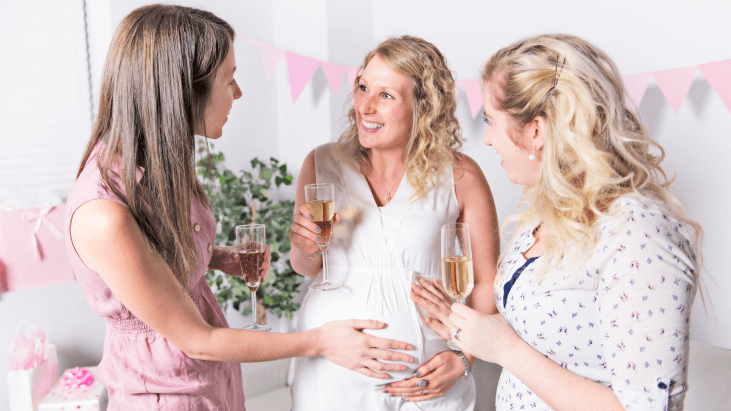 Communicate with
guests
Use TextSanity to communicate with guests in the leadup to the shower with your TextSanity inbox. This two-way inbox allows guests to message you directly with any questions about the event. 
For example, let's say that a guest had a question about the event's dress code. They could simply text your dedicated TextSanity number with their question, where you would then see it and quickly respond with the information they're looking for. 
This helpful TextSanity feature helps everyone stay on the same page and contributes to a successful event. 
Conclusion
Make the entire shower planning process easier by texting your invitations with TextSanity. To see for yourself how TextSanity works and how you can use it for your event, text the word DEMO to 50500 for a free and personalized demonstration.