11 Unconventional Ways to Use TextSanity
Updated 12/2/2022
As an SMS marketing platform, TextSanity's seamless technology proves useful for virtually anyone who needs to communicate via text message.
Therefore, a few uses of TextSanity follow, but many uses exist past the ones outlined below.
1. Personal Communication
TextSanity's tools create seamless communication with family and friends. Just think of all the group chats you're in. With TextSanity's broadcasting tool, sending mass text messages individually at the same time gives you greater control of your personal communication. Furthermore, TextSanity's inbox allows you to keep track of the message threads while also keeping track of your contact's information on the contacts page; even add birthdays and emails if you choose.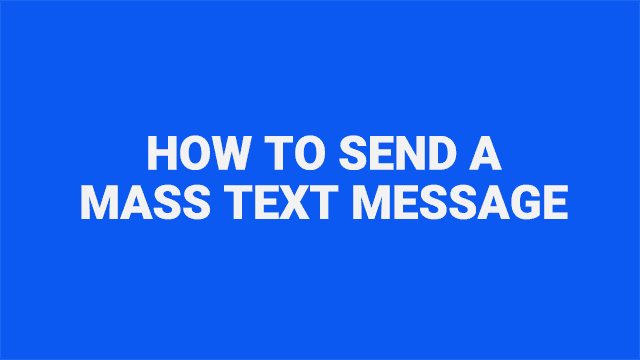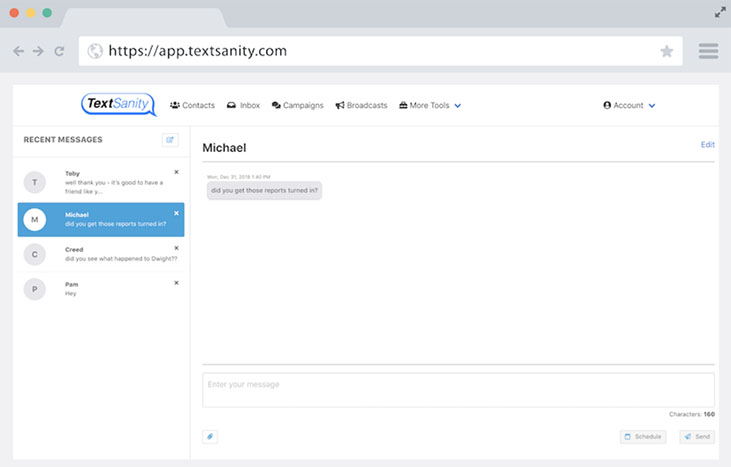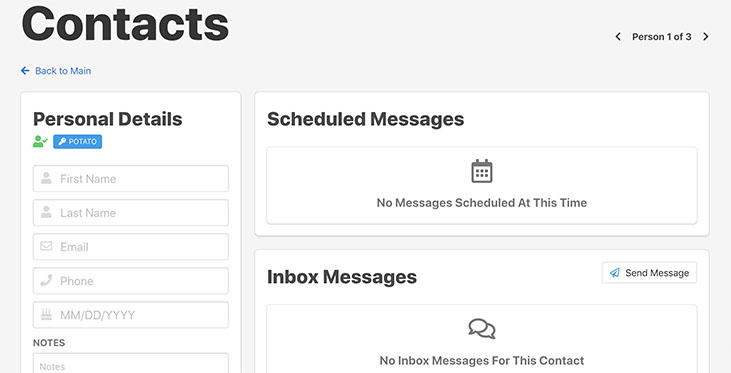 2. Large Corporate Communication
Large organizations flourish with good communication. Hence, TextSanity's communication tools allow a large organization to thrive. Therefore, TextSanity reaches employees where they already spend their time – on their cell phones. Thus, saving you time and hassle. Send a quick text as a reminder for a corporate event or as a precursor to an important meeting.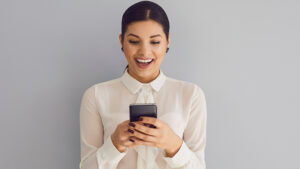 3. City Information
Cities, of all shapes and sizes, often struggle to communicate with their citizens. So, communication from governmental organizations means the difference between an engaged populace and an unengaged one. Consequently, the more a city communicates with its citizens, the stronger a community becomes. TextSanity tools like keyword campaigns, broadcasts, contacts, inbox, and webforms all benefit a city.
Each tool provides a different use for a city. Furthermore, keyword campaigns and webforms help a city build its following of citizens, but unlike a Twitter account, texts reach their destination individually, allowing for optimal privacy. Additionally, contacts keep track of the citizens and once the citizens opt-in to city communications, broadcasts keep each citizen updated on vital information. Through inbox, a city responds to individual citizen concerns.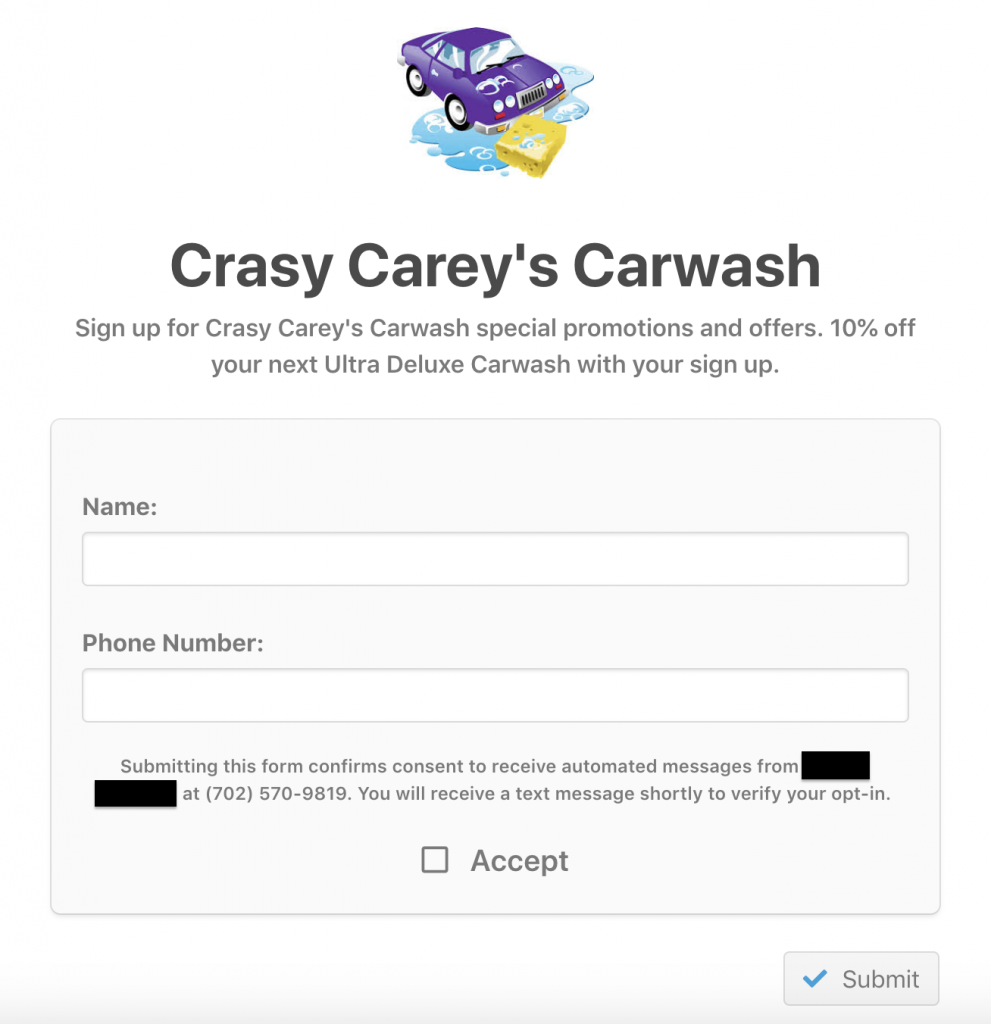 4. Church Congregations
Large organizations and cities aren't the only ones who need to communicate with their citizens; churches share this need. As a result, church communication, although spiritual rather than secular, can benefit from TextSanity's tools. Whether it's communicating with the youth group, the choir, or even an entire congregation, churches benefit from efficient communication. By tagging their congregants, churches separate communication with each group. Thus ensuring that no one receives text messages that don't apply to them.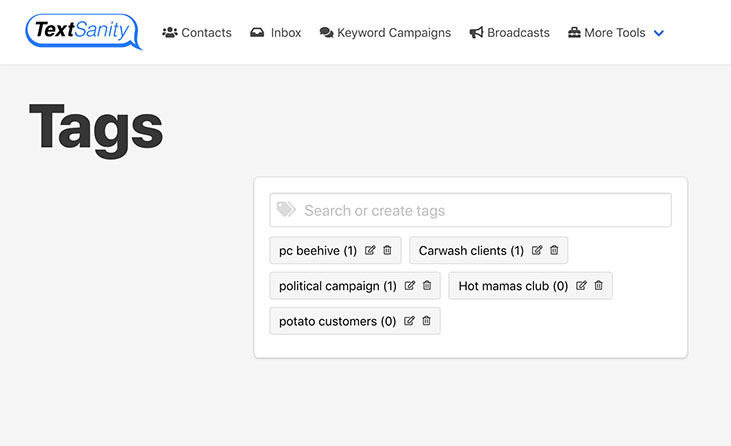 5. Start-up Business
As we know, start-up's often operate on a shoestring budget. Consequently, most try to build something from nothing – no easy feat! Therefore, start-up's benefit from TextSanity's custom plans that make using its tools affordable. Plus, all of TextSanity's tools help a start-up go from 0 to 60 in no time flat.
6. Book Clubs
The resurgence of book clubs in recent years creates a need for easy and efficient communication. Furthermore, many people regularly attend book clubs. In fact, even a cursory Google of book clubs leaves you overwhelmed with options for book clubs in your area. That said, book clubs, like any other organization, need to communicate with their members regularly.
However, already inundated with group chats, many people simply ignore them all together. This defeats the purpose of communication. Nevertheless, TextSanity helps book clubs communicate by sending individual mass text messages. No group chat burn-out here.
7. Focus Groups
Although not applicable to every organization, many organizations hold focus groups to try new products. Communicate with everyone in your focus group at the same time by sending a mass text message. Don't worry! The messages are received individually. An extremely useful tool when privacy reigns supreme.
8. Coworker Communication
Communication with coworkers creates the foundation of a successful company. Almost any type of work requires collaboration and communication. Most noteworthy, they make the difference between a company thriving or declining. If you don't communicate with the others you work with well, the company suffers. As a result, TextSanity facilitates communication within groups of coworkers, without annoying anyone. Likewise, personalize and filter communication to exactly the right people at exactly the right time.
9. Classes of Students
Two types of communication arises in classes of students. Despite the age or subject matter, a class facilitator must communicate with the class and communication within a class must also take place. In regards to the communication with the class facilitator, TextSanity helps them communicate with an entire group of students. Furthermore, TextSanity helps the group of students themselves communicate when forming study and recreational groups.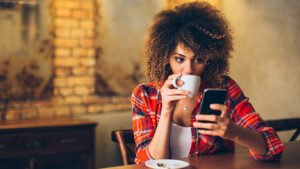 10. Customer Service Requests
One of the hardest things for any company: customer service requests. Accordingly, TextSanity makes a company's job easier by helping connect customers with customer service. Our seamless technology, namely keyword campaigns and inbox, allows your company's customer service to get up and running in no time. Likewise, we know that making each customer fully satisfied helps maintain the longevity of your company. Let us help you.
11. Sports Teams
Both professional and amateur sports teams need to communicate. As a result, every team possesses unique communication goals. The goals don't just extend to the players, or to people invested in the sports teams success, or even parents of the players.
Facilitating proper and adequate communication creates quite the conundrum for teams. Broadcasts, or mass text messaging, eases the communication challenges of sports teams. Each broadcast, tailored to meet its groups' unique communication needs, ensures everyone receives the same information. Similarly, each groups' customizable text messages fits the needs at the time.
Using TextSanity to help with your communication needs
In the end, TextSanity improves your communication. So, once you try TextSanity for your text message communication, you won't want to go back. Start spreading the sanity today.